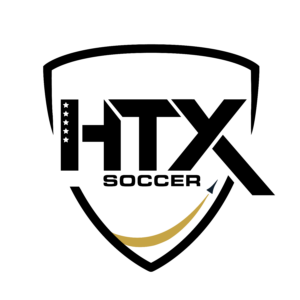 The evolution of Houston's leading youth soccer club continues as the Dynamo | Dash Youth Soccer Club reintroduces itself as HTX Soccer. The new identity is reflective of who the club is now and how it intends to continue growing in the future.
Beginning with the fall season, HTX Soccer's club colors will be Black, White and Gold. The new club crest features HTX boldly emblazoned over a traditional soccer crest with five white stars representing the club's five core values aligned inside the H. The crest also features a rocket arcing skyward, a design element that reflects the history of Texas Rush and Space City, the two clubs who merged in 2017.
The new name, colors and crest officially launched on June 1 after the club's six-year licensing agreement with the Houston Dynamo Football Club expired by mutual agreement.
Read the full announcement, here.
The HTX Soccer Difference
Complete Player Development Journey
Opportunities for all, with over 9,000 members
All ages, abilities, and competitive levels welcome
10 locations and 65+ fields across the Houston area
Access to top leagues and tournaments
Adaptive and Special Needs Program
Professional, Full-Time Coaching Staff
Over 170 US Soccer and UEFA Licensed Coaches
Two offices with full-time administration staff
Bilingual coaches and staff available
Our Mission
Providing youth soccer opportunities for all ability levels serving the greater Houston community.